Event Name
: Catch the Camel - 5
th
Edition
---
Date
: 11
th
- 14
th
March, 2020
---
Location
: Dubai - Abu Dhabi - Liwa - Zaya Nurai Island
Request More Info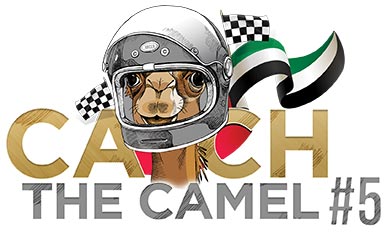 Catch the Camel supercar rally was launched in 2017 in Dubai and very quickly became the region's largest supercar rally. The rally sees participants from all over the world join the twice-yearly, three to four-day tour which covers some of the United Arab Emirates' most beautiful landscapes and roads.

Day1: Supercar convoy drives from Fairmont Abu Dhabi Hotel to Tal Moreeb dunes in Liwa Desert. Enjoying 1,000 BHP Baja Truck experiences on Tal Moreeb Dune and Can-Am Dune buggy driving experiences. Arrival at Qasr Al Sarab Desert Resort in Liwa for Staycation & Day-1 closing party.

Day 2: Off-road jeep driving experience on the UAE's highest dunes after that the Supercar convoy drive from Qasr Al Sarab Resort to the Saudi Arabia border along Liwas stunning desert roads. Supercar convoy arrives at Zaya Nurai Island for a Private Day 2 closing party and overnight stay at Zaya Nurai Island

The 5th Edition brought to you by Trade X ME LLC and XPEL Middle East.

Organized by Ninth Degree Experiences

In Association with Lamborghini Dubai & Abu Dhabi

AND Special Thanks TO CTC partners:
QUIX - JNKD Group - Xpress Auto - The Luxx Art DXB - Globaleye - Motorsport Wheels Dubai - Falcon Corporate Services - Coffee Planet - Monster Experience - Fuel-Up By Kcal.